Coronavirus COVID – 19 Disinfection Services
KIlls 99.9% Of Bacteria and Viruses!
Protect Your Employees! and Family
Can you imagine your office being so clean that is has no coronavirus, bacteria, mold, and odors in it? If you have office or employees moving around, your main goal should be to provide them with a sanitized environment 24/7. Unfortunately, simple cleaners cannot rise to your expectations, no mater how often or regular they might be used. This is where professional office disinfecting and sterilizing services come into the picture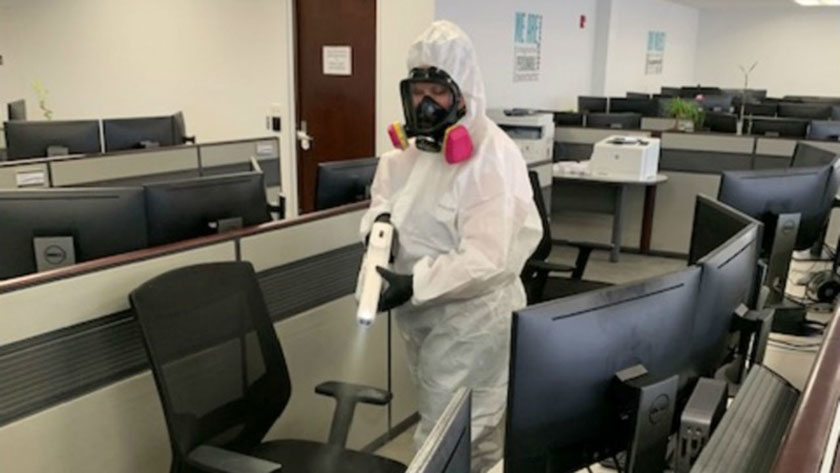 We rely on non-caustic, non-corrosive cleaners that will completely sterilize your office, commercial building or property and make it 99.9% germ-free. SparklingCarpets warmly invite you to get in touch with us and let us know what your exact needs are. Our team will come over, assess your place and issue an estimate on the spot, based on our expertise.
We use Citrus II Hospital Germicidal Deodorizing Cleaner has demonstrated effectiveness against viruses similar to 2019 novel coronavirus
Our Sanitizing and Disinfection Services is effective against 100 viruses and bacteria:
Coronavirus COVID 19

Influenza A Virus

T4 & T1 Bacteriaphage

Canine Coronavirus, Distemper & Herpes Virus

Staphylococcus (All types)
All types of commercial buildings ranging from offices, hotels, educational institutions, churches and gyms are highly susceptible to various bacteria and germs, with severe cases of infestations reported on a regular basis.
Call US: We will SANITIZE YOUR OFFICE, COMMERCIAL PLACE AND HOME
Protect against viruses like Coronavirus, Avian Influenza A, H1N1 Flu Virus, H5N1, HFMD, Rotavirus, Coxsackie, etc.
Call Us:

1.888.408.4358